Il tuo italiano è già buono ma ti resta un sogno:
Trovare sempre
le parole giuste
Stai parlando in italiano e improvvisamente... ti mancano le parole per dire quello che vuoi dire.

Quante volte ti è successo?
Stai ascoltando qualcuno che parla italiano ma... usa un'espressione che non conosci e perdi il senso di tutto.
Conosci questa sensazione?
Vuoi continuare a migliorare il tuo italiano ma non sai come organizzare uno studio efficace adatto al tuo livello.
Ho indovinato?
Adesso c'è una scuola per te
Quando si parla un'altra lingua, il passaggio da un buon livello alla fluenza è il più difficile, perché si entra in quella che io chiamo "la solitudine degli studenti avanzati".
Vorresti continuare a migliorare, ma l'unica possibilità per farlo sembra organizzare da solo la tua full-immersion nell'italiano.
Per questo ho creato la scuola di italiano che risponde alle esigenze degli studenti avanzati.
"Irene mantiene la promessa di insegnare delle cose che si imparano solo con la pratica diretta della lingua"

Luc F. - Insegnante di lingue - Belgio
"Mentre seguivo ho avuto l'impressione di essere in una lezione privata, raccomando questo corso"

Jin Yun, studentessa koreana in Italia
Empty space, drag to resize
Autonomia nello studio e contatto diretto con me
Nei miei corsi ti accompagno dal primo contatto con il lessico avanzato al momento in cui avrai la certezza di saper usare il nuovo lessico in autonomia


Avrai tutti gli strumenti per non preoccuparti del fuso orario ma allo stesso tempo interagire veramente con me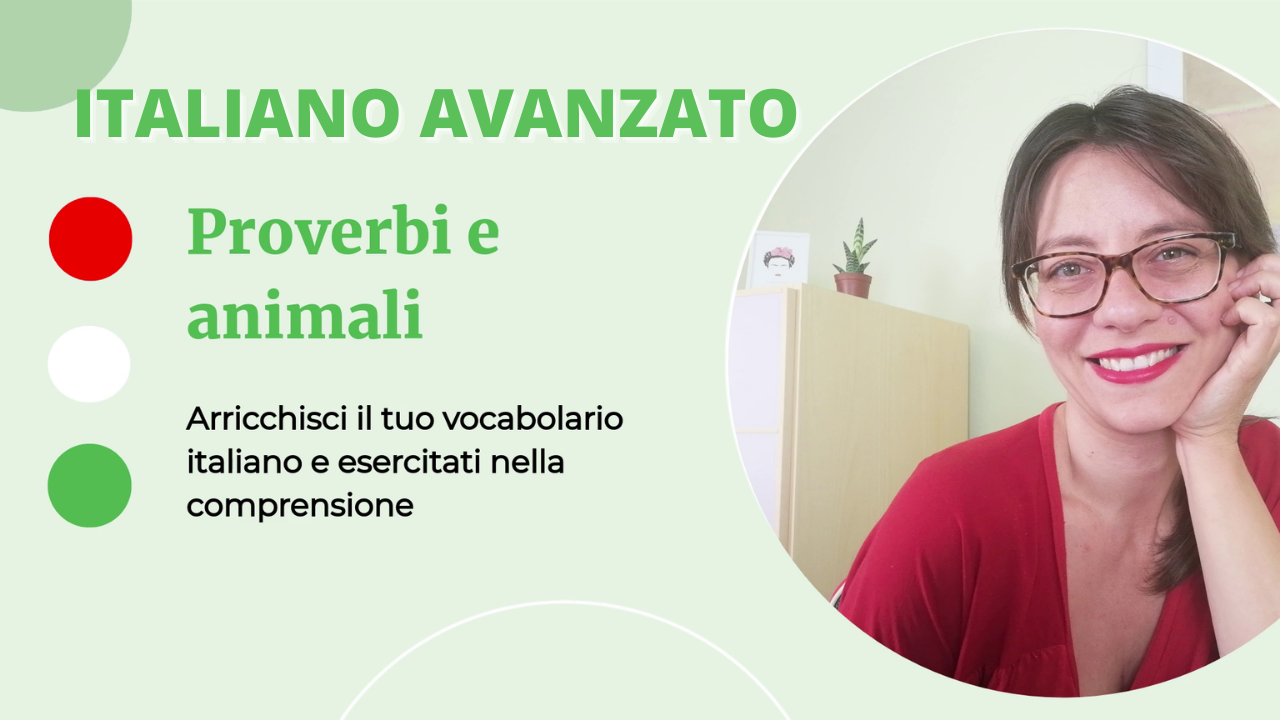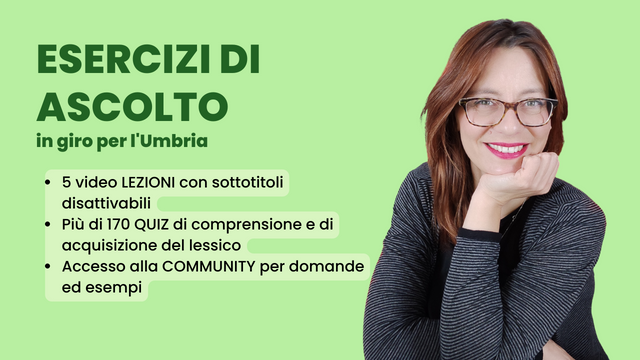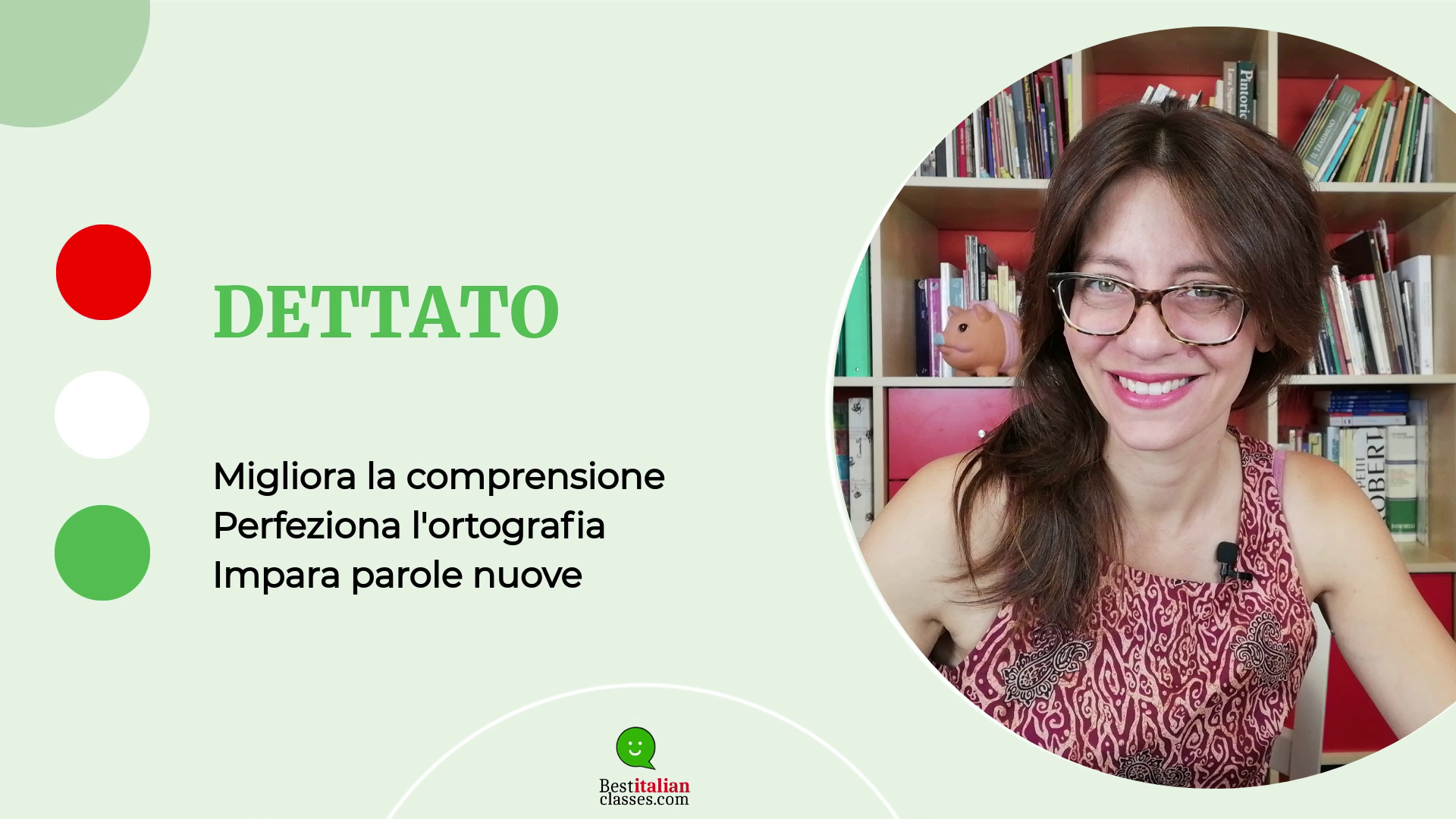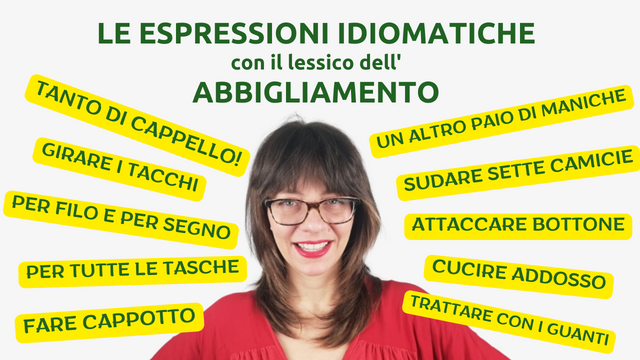 Empty space, drag to resize
"Volevo ringraziare Irene per un corso proprio fantastico che rappresenta un'enorme fonte di informazioni."

Natalia @natalia_impara_l_italiano - Russia
"Ora mi sento molto più fiduciosa e pronta a comunicare ancora meglio in Italia. Che libertà!"

Marina @marmundo_ - Brasile
"bello... ma ho poco tempo..."
"Non so se è per il mio livello..."
Lo so! Per questo c'è l'abbonamento
Un prezzo leggerissimo che non toglie valore ai miei corsi ma dà valore al tuo tempo
Empty space, drag to resize
PROVA
Inizia subito il periodo di prova gratuito di 7 giorni senza carta di credito e prova tutte
le video lezioni, i quiz e scarica i PDF
RESTA
Scegli l'abbonamento a solo 28 euro al mese e decidi tu quanto restare e quali corsi terminare, senza preoccupazioni

I problemi degli studenti avanzati
Rimanere bloccati a un buon livello
Cercare i contenuti adatti
Organizzare lo studio da soli
Cercare un madrelingua per fare pratica
Limitare i costi
Capire l'uso del lessico avanzato
Le soluzioni di Best Italian Classes
Migliora veramente il tuo italiano
Contenuti specifici livello B2-C1-C2
Scegli le lezioni che vuoi grazie all'abbonamento
Un prezzo che dà valore al tuo tempo
Interagisci veramente con me
Metti subito in pratica il nuovo lessico
Empty space, drag to resize


E solo iniziando subito la prova gratuita, riceverai un regalo!
Il raccoglitore di lessico Excel, uno strumento in più per raccogliere, acquisire, memorizzare nuovo lessico.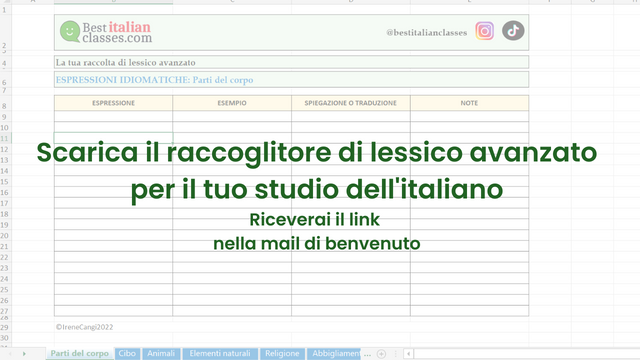 Guaranteed Security using one of the most advanced encrypted systems on the market.
The information in this page is being processed and encrypted securely using industry-leading encryption and fraud prevention tools.
Conosciamoci!
E ricevi contenuti ESCLUSIVI e GRATUITI.

Created with